Retailers, farming unions, consumer, hospitality and environmental bodies from across the UK have been named as members of the Government's new Trade and Agriculture Commission.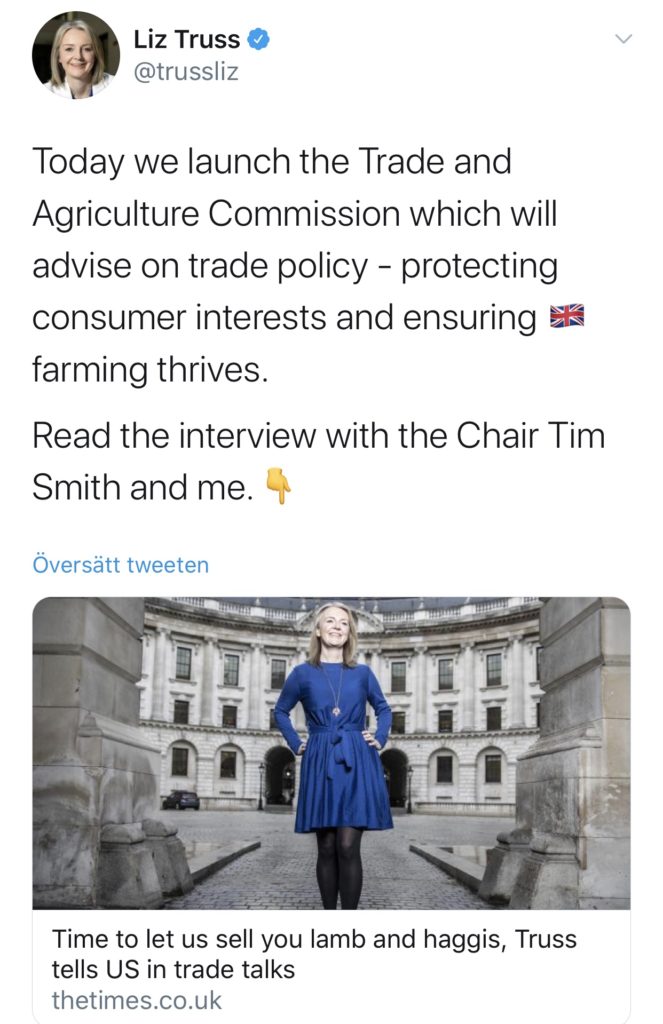 It will be chaired by food safety expert Tim Smith, a former Chief Executive of the Food Standards Agency and Tesco Group Technical Director.
The English, Scottish and Welsh branches of the National Farmers Union (NFU) are all represented, as are the Ulster Farmers Union and the Farmers' Union of Wales. Other members include the British Retail Consortium, UK Hospitality, and the Food and Drink Federation.
It will report directly to International Trade Secretary Liz Truss, advising on:
Trade policies the Government should adopt to secure opportunities for UK farmers, while ensuring the sector remains competitive and that animal welfare and environmental standards in food production are not undermined;
Advancing and protecting British consumer interests and those of developing countries;
How the UK engages the WTO to build a coalition that helps advance higher animal welfare standards across the world; and
Developing trade policy that identifies and opens up new export opportunities for the UK agricultural industry – in particular for SMEs – and that benefits the UK economy as a whole.
Members include:
Ex-Tesco Tech Director/FSA – Tim Smith (Chair)
NFU England – Nick von Westenholz
NFU Scotland – Andrew McCornick
NFU Cymru – John Davies
Ulster Farmers Union – Victor Chestnutt
The Farmers Union of Wales – Glyn Roberts
Lamb Farmer – Rob Hodgkins
Competere – Shanker Singham
Former Chief Veterinary Officer – Nigel Gibbens
British Retail Consortium – Andrew Opie
Trade Out Of Poverty – Tom Pengelly
Former Trade Minister and Agriculture Minister for New Zealand – Sir Lockwood Smith
UKHospitality – Kate Nicholls
Food and Drink Federation – Ian Wright CBE
LEAF – Caroline Drummond