This week Aliança Procomex & the Federal Revenue Authority of Brazil (Receita Federal) organized a very successful and historic third international High-Level seminar on AEO Brazil in Sao Paulo under the title 'AEO Integrado'.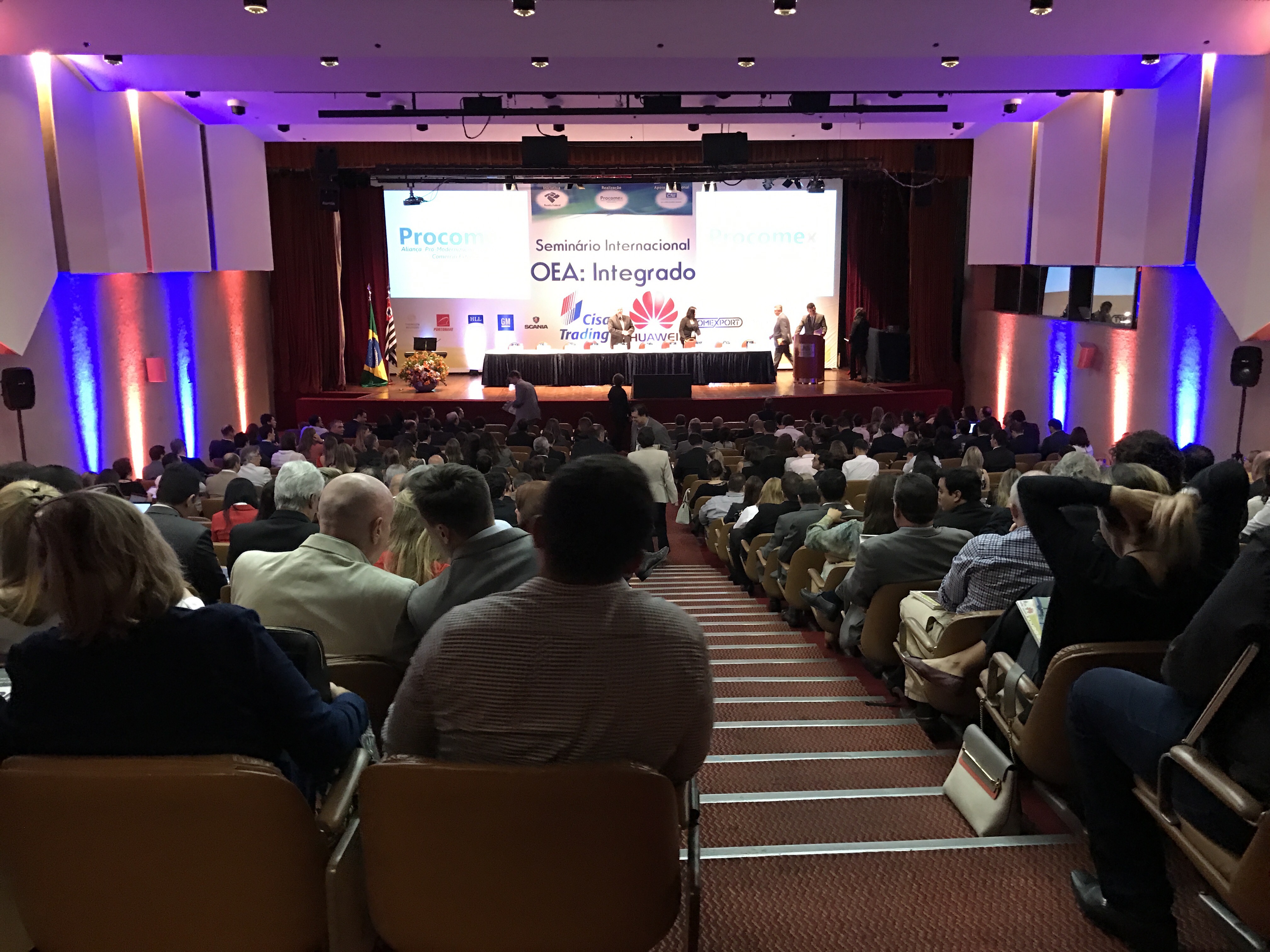 More than 400 high-level participants attended the seminar
This was an international event with participation from eight countries, where Receita Federal presented the latest developments of AEO Brazil.
This year Brazil, as one of the first countries in the world, is introducing Integrated AEO in line with pillar III of the World Customs Organizations SAFE Framework of Standards.
This means that also other Border Agencies will be included in the AEO programme – starting with Agriculture (MAPA) and Health (ANVISA) – using the same programme and through one AEO certification handled by all agencies giving benefits to the AEO companies.
More than 400 participants from Government, Academia and the Private Sector attended the meeting.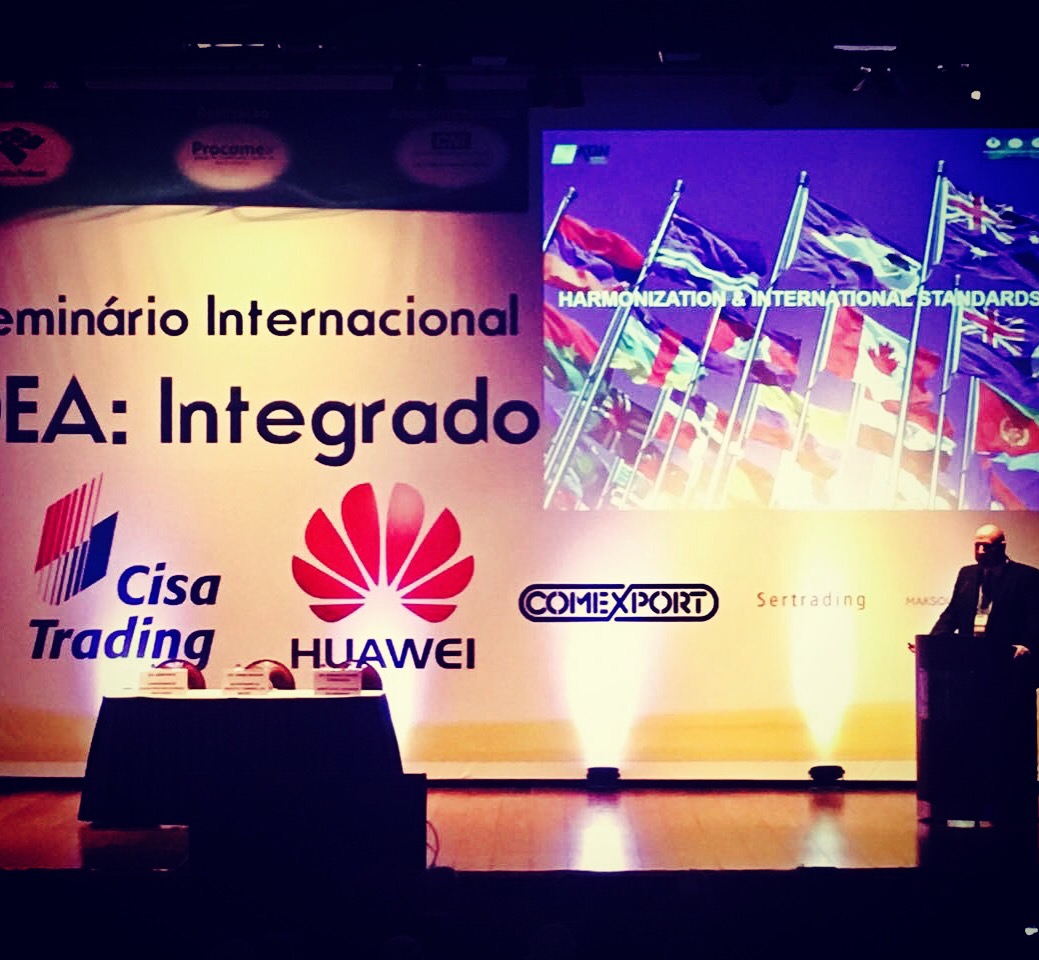 Making my Key Note Speech
As Senior international advisor to the project – I was invited to make a Key Note Presentation about the AEO Trends in the world and what Ibtegrated AEO means and how it will work in Brazil.
AEO Integrado (Integrated AEO) providing a Single Government Status is world bews and it is a revolution that will bring tremendous benefits to AEO companies, Government and to Brazil as a country.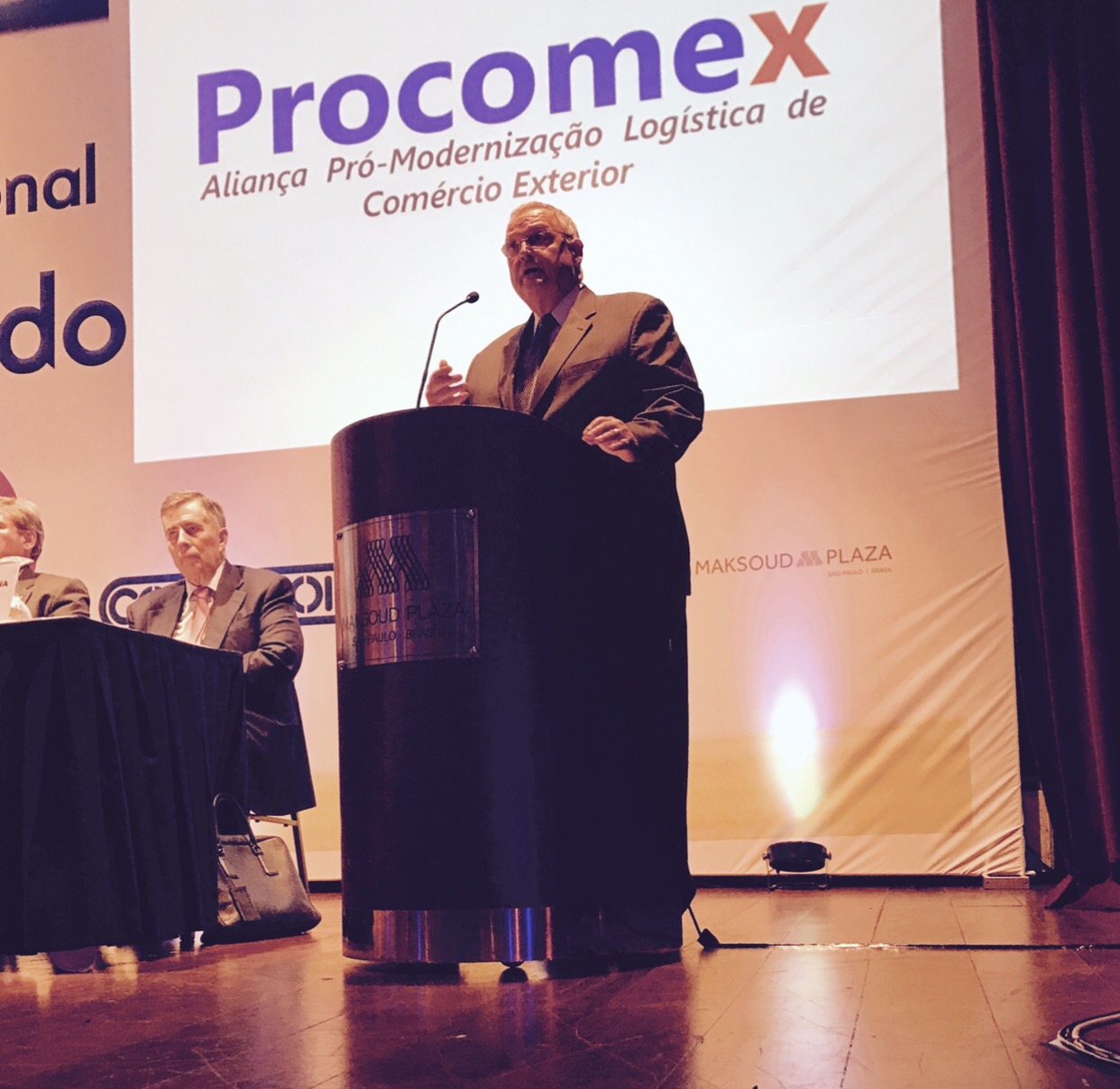 Opening remark by John Mein
The opening speech was made by my good friend Dr. John Mein, Executive Secretary of Instituto Aliança Procumex and Chairperson of the World Customs Organisations Private Sector Consultative Group (PSCG).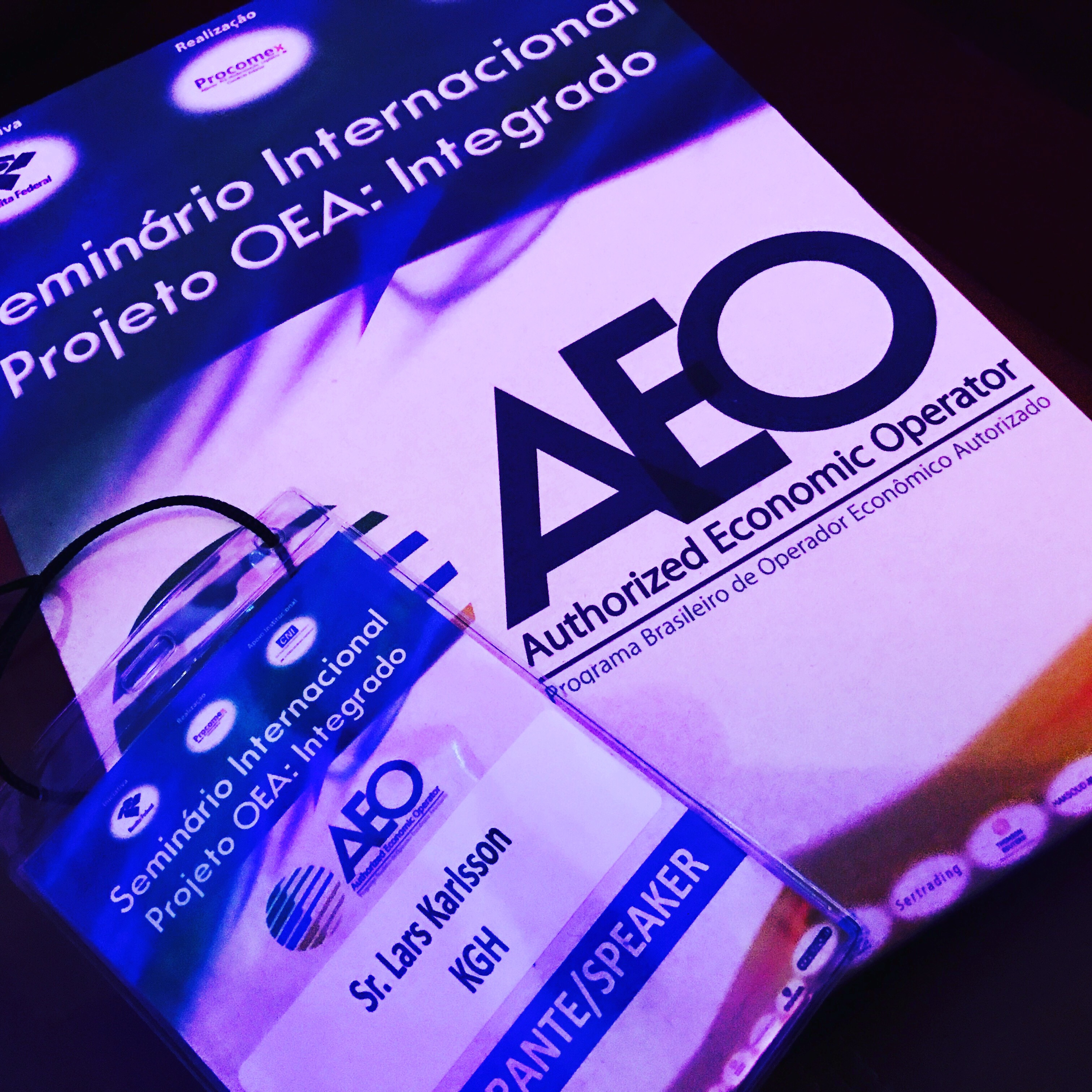 This event was organized by Procomex
Procomex is our partner in the AEO Brazil project and the institure was alsobthe organizer of the international AEO Integrated Seminar, a very successful event brilliantly organized by Procomex.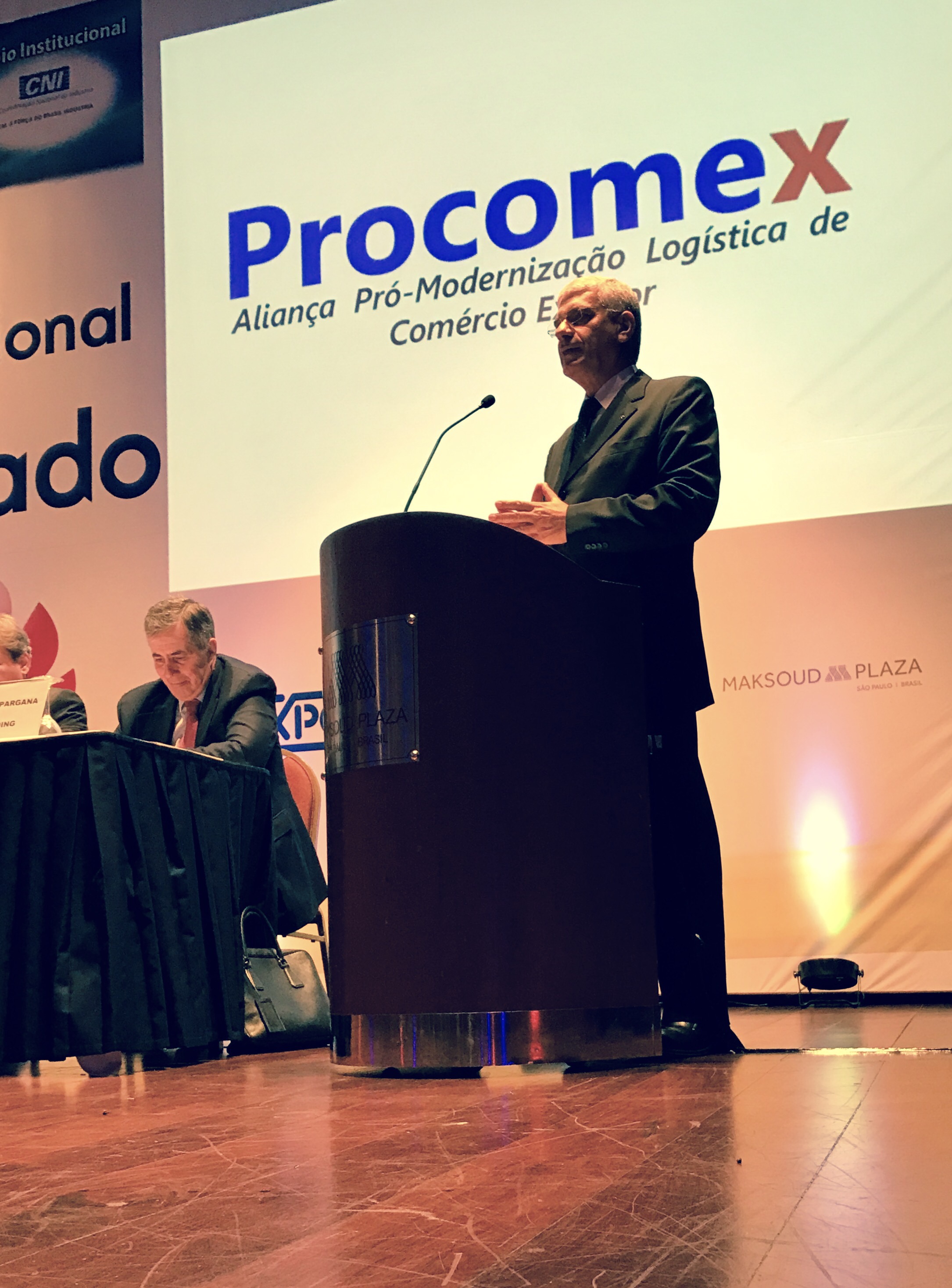 Dr. Jorge Rachid speaking about AEO at the seminar
The Secretary of Receita Federal Dr. Jorge Rachid, Receita Federal, talking about the future of AEO in Brazil, "A project of highest priority".
"This is a project of highest priority and importance for Brazil"
The event had a very interesting list of speakers talking about how AEO can become a game changer for Brazilian private sector and international companies trading with Brazil.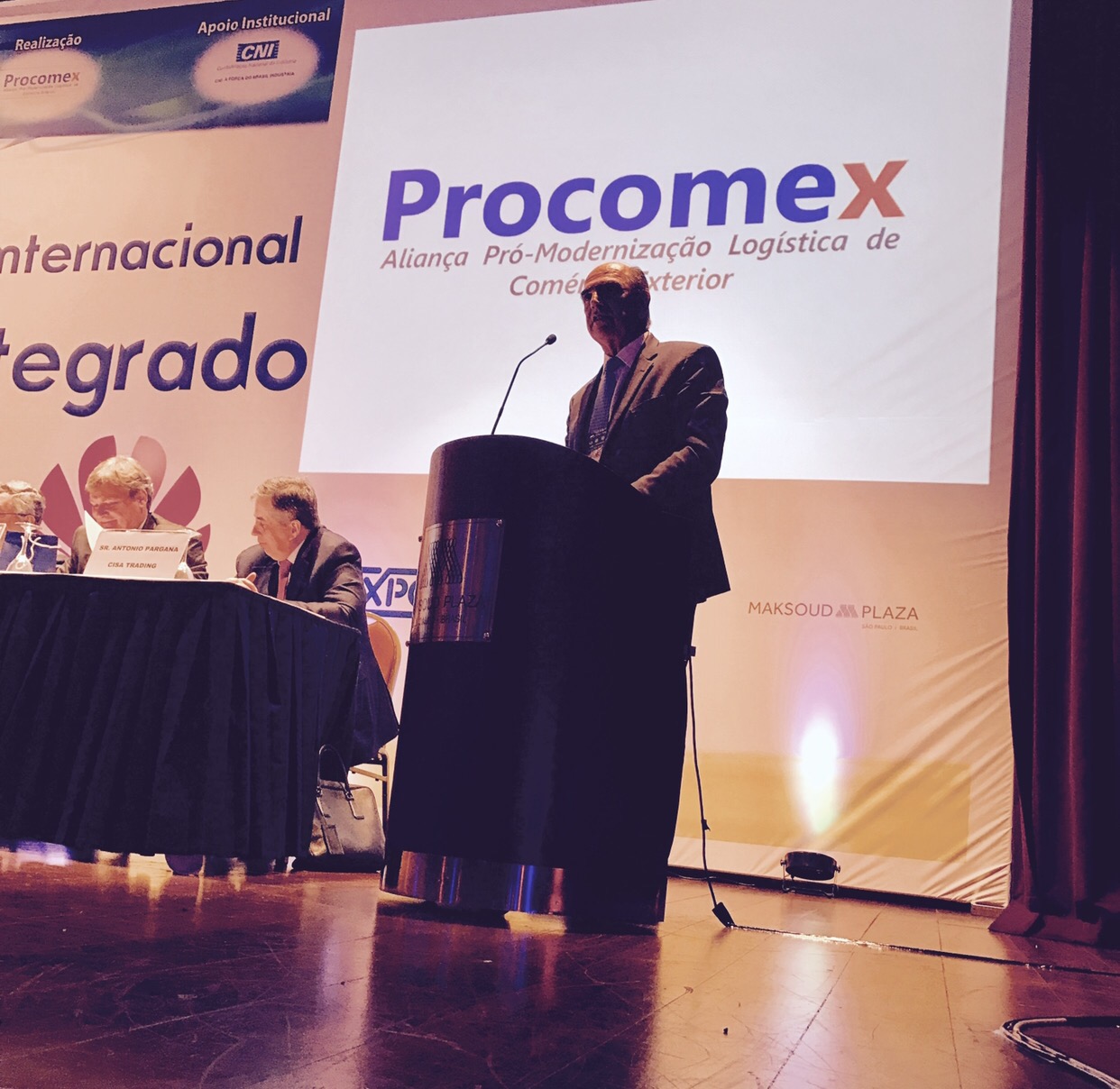 CNI Director Carlos Abijaodi delivering his remarks
Dr. Carlos Eduardo Abijaodi, Director at the Brazilian Federation of Industry (CNI), who are the sponsor of the unique private sector cooperation support (and our partner) for the AEO Brazil project – stressed in opening remarks how crucial this project is for the Brazilian private sector.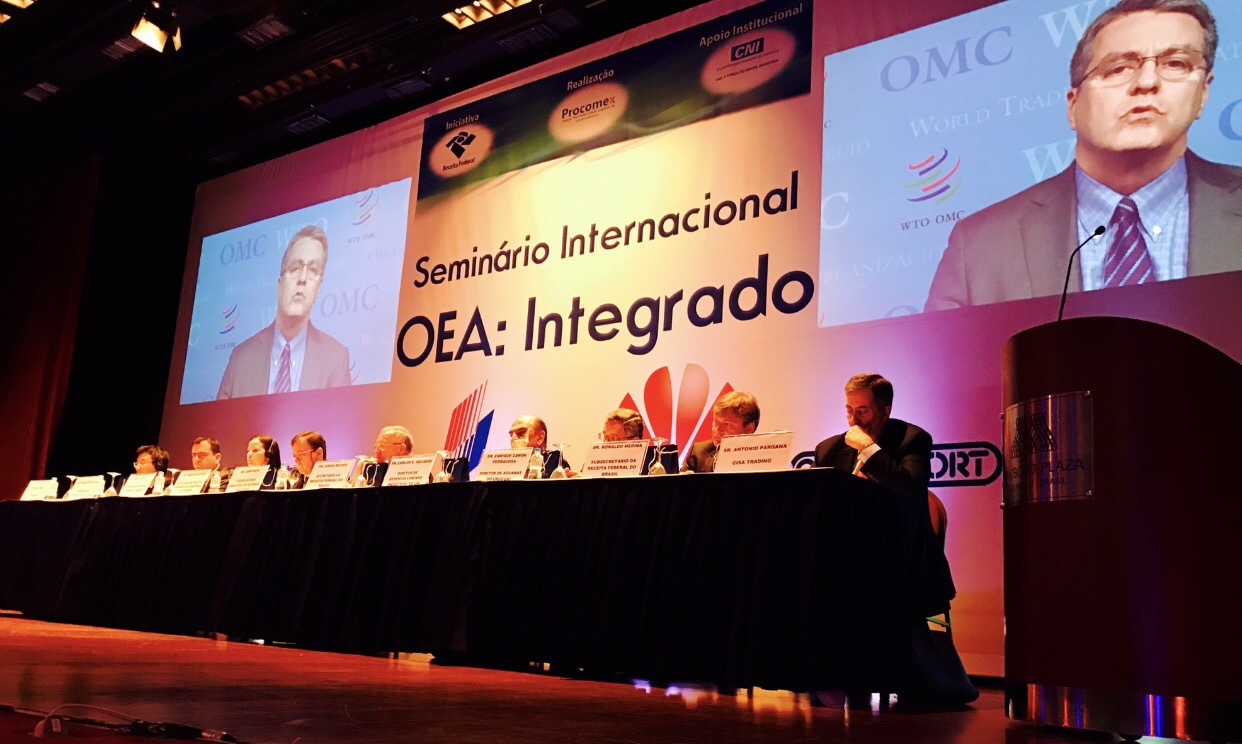 WTO DIrector General Roberto Azevedo speaking in the Sao Paulo seminar
WTO Director General Roberto Azevedo delivered a magnificant speech about the paramount role of AEO in the Trade Facilitation Agreement, the first multilateral trade agreement in decades. An agreement that soon enters into force. Only eight ratifications are missing at the moment. In his speech Director General Azevedo said that he expects the TFA to enter into force in early 2017.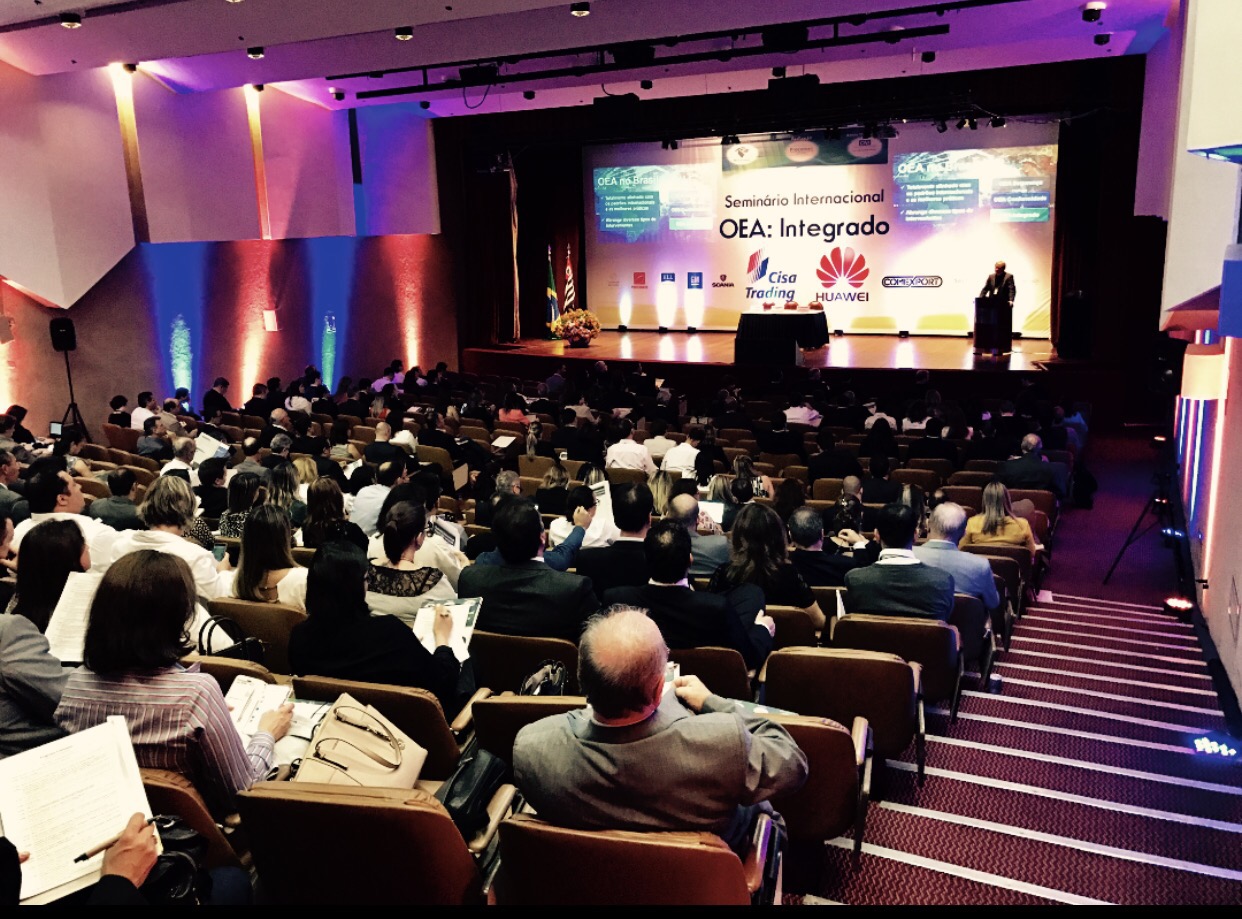 Ronaldo Medina, Under Secretary of Customs and International Affairs in his adddress
Brazilian Customs Director General, Under Secretary Ronaldo Medina presented the AEO Brazil numbers, "we already have 83 AEO companies – 12,8% of the total flow – and another 110 companies have submitted their applications. We aim to have 50% of the flow as AEO in 2019".
"We already have 83 AEO companies – 12,8% of the total flow – another 110 companies have submitted their applications and we aim for 50% of the flow in 2019".
In his speech Dr. Medina outlined how AEO Brazil will become the new trade process of Brazil.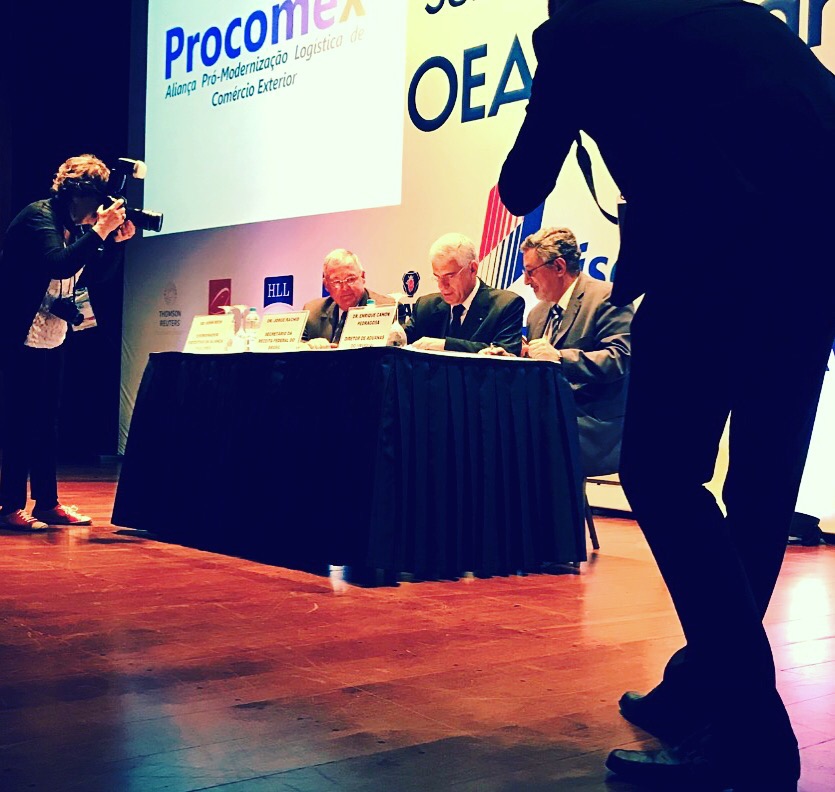 A historic moment
The first AEO Mutual Recognition Agreement is signed! Between Brazil and Uruguay.
At the event Brazil (Secretary Rachid) and Uruguay (Dirctor Canon) signed the first AEO South-South Mutual Recognition Agreement on the continent. The first AEO MRA for Brazil and the first for Uruguay. This a major landmark event creating a new trade corridor between Brazil and Uruguay.
Brazil is negotiating MRAs also with United States, China, South Korea and Argentina.
"We are expecting several more of these AEO MRA agreements to be signed in 2017"
Under Secretary Medina said in his speech that "we are expecting several more of these AEO MRA agreements to be signed in 2017".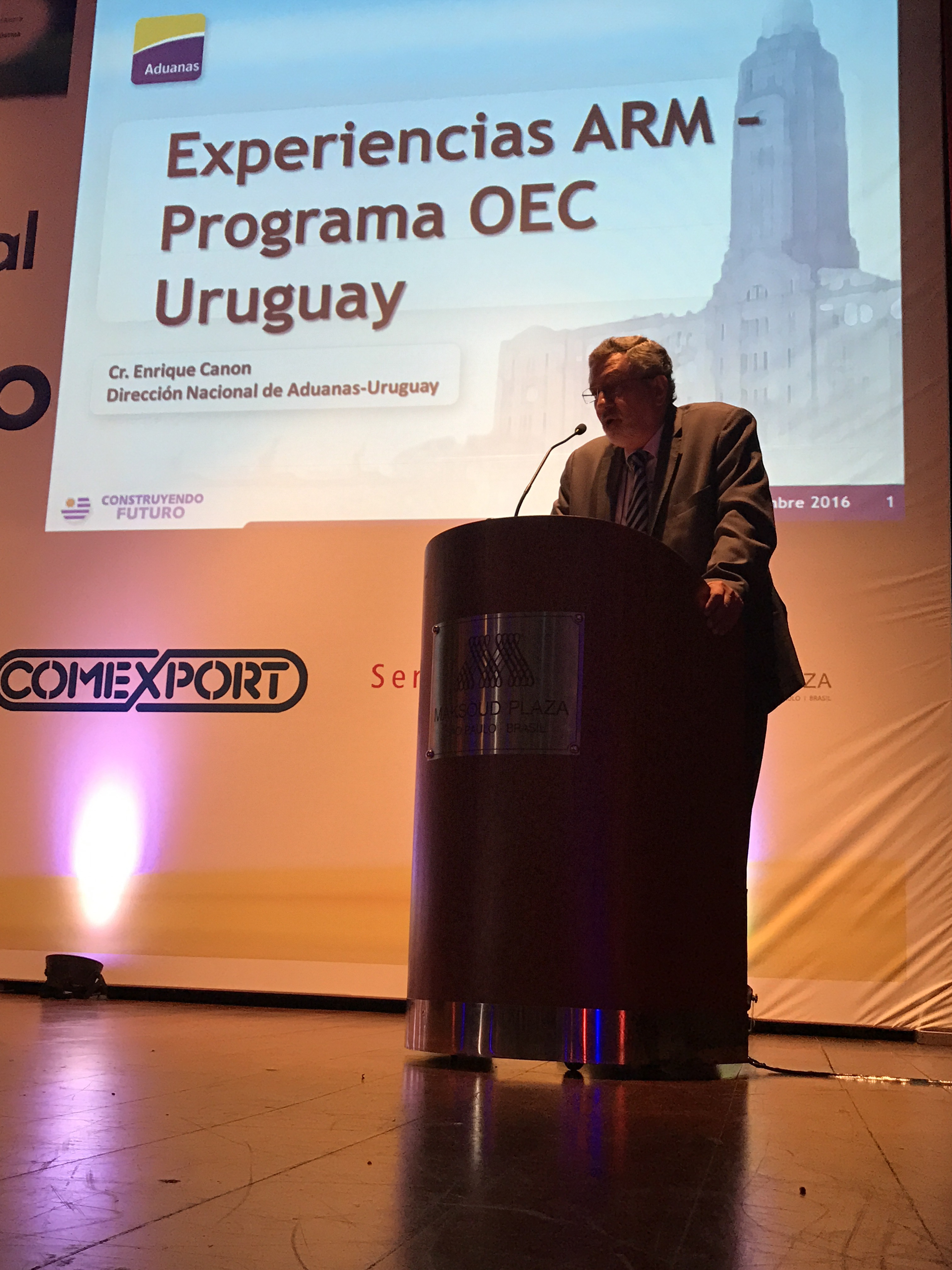 Dr. Enrique Canon in his emotional and excellent speech at the seminar
Uruguyan Customs Director Enrique Canon gave an outstanding speech on globalization and how Customs plays a role in a positive future. He said that the agreement between Uruguay and Brazil is an innovation that will bring growth to both countries.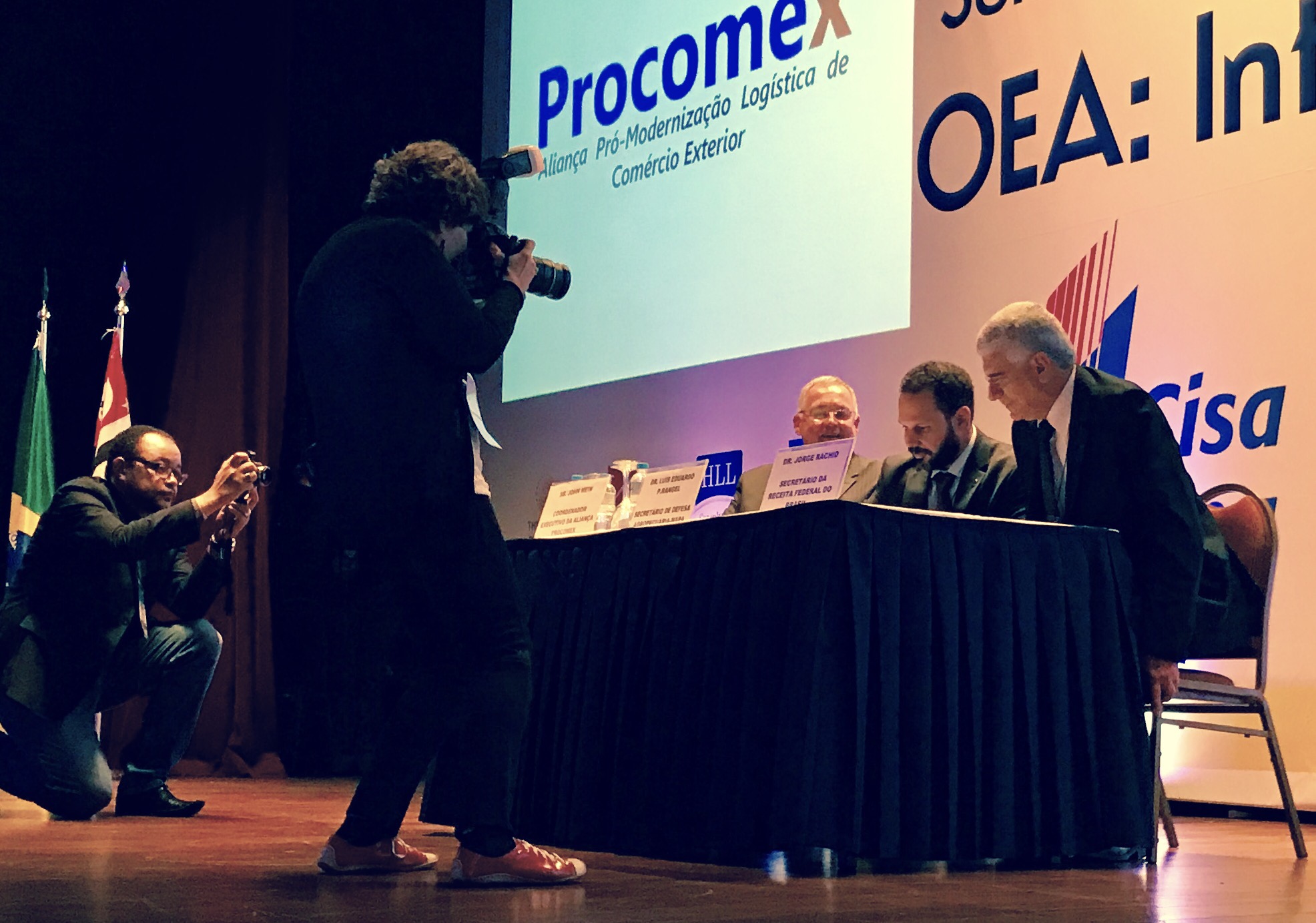 A second historic moment
The seminar also had another historic moment. The first Single AEO Government Status for Integrated AEO in the world is born.
The Brazilian Federal Revenue Agency – Secretary Rachid – signed an agreement with the Ministry of Agriculture – Secretary Luis Eduardo Pacifi Rangel – making Agriculture the first pilot in a multiagency AEO programme.
This means that Brazil will have one single AEO status for all Government border agencies with a single application, validation, certification and monitoring/re-validation process. There will be one control programme and a common benefit package. This is world news! Also Health (ANVISA) will join the pilot project in 2017.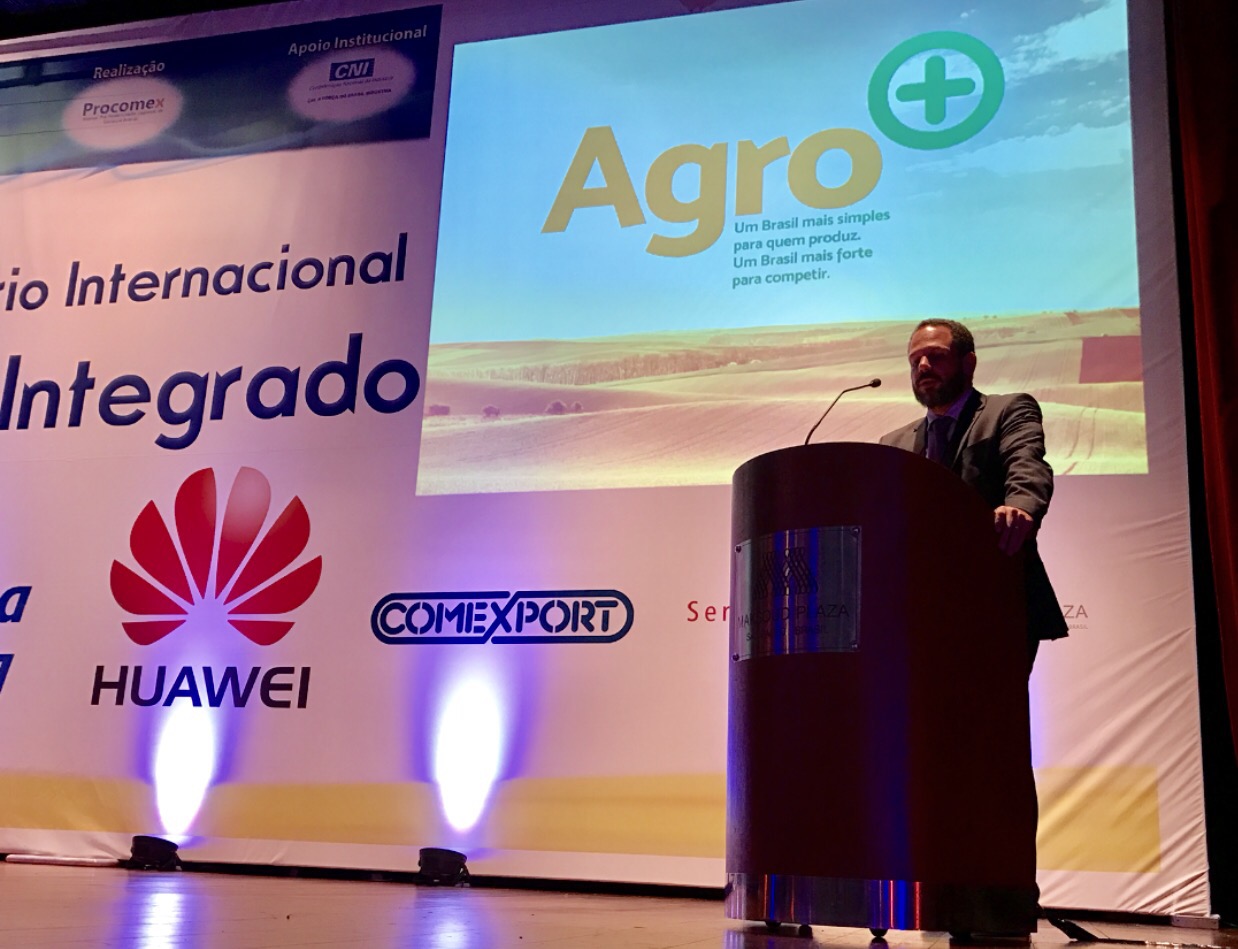 MAPA Secretary speaking about his high expectstion on simplificatilns for trade as a result of the AEO Integrated programme
Secretary Luis Eduardo Pacifi Rangel, Agriculture and Livestock Defense, explains why it is natural for Agriculture to become the first other border agency officially entering the AEO Brazil programme.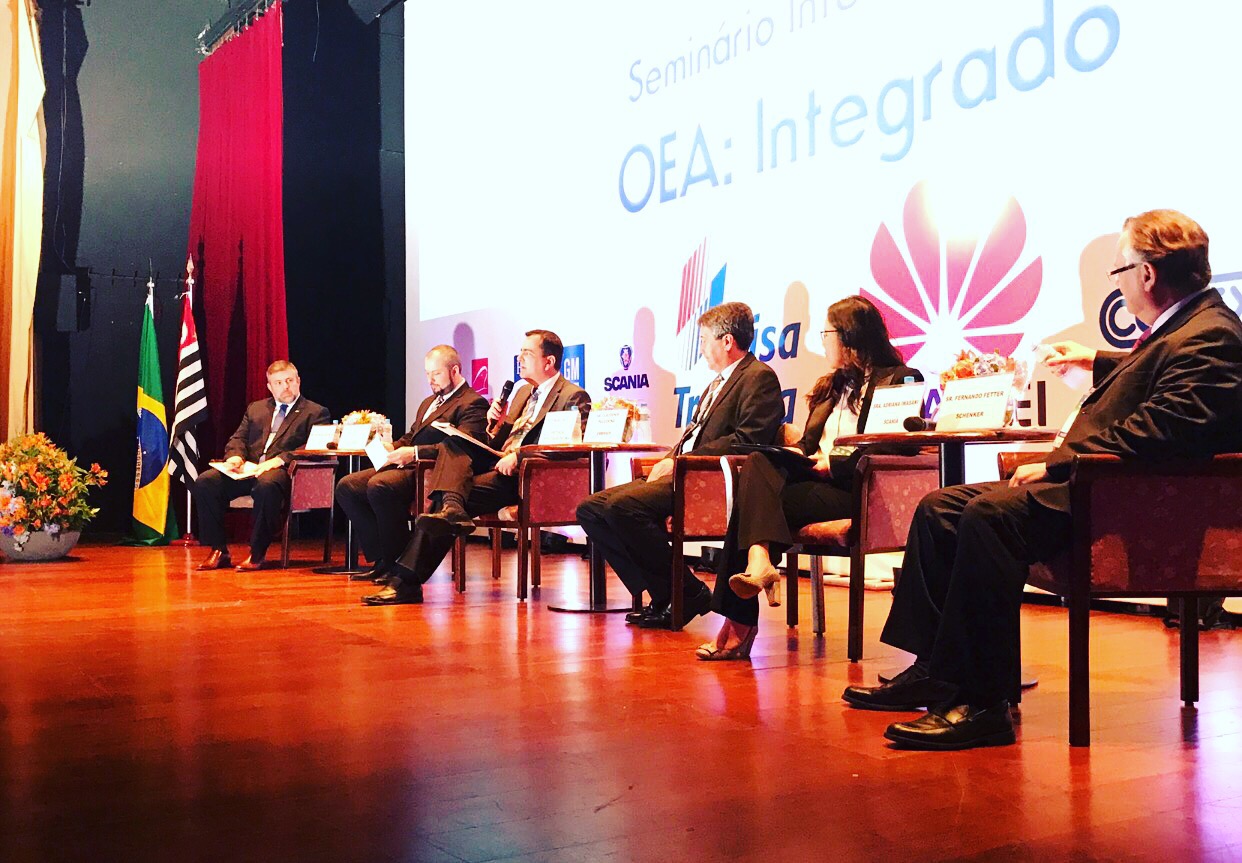 Private Sector representatives from Brazilian AEO companies speaking about their experinces.
The final private sector panel of the event, an excellent panel with representatives from comalkies like e.g; GM, Embraer, Scania and Schenker – was moderated by Ernani Checcucci former Under Secretary of RFB and now Dirctor of Capacity Building of the World Customs Organization.
The AEO companies displayed a positive view of the experience from AEO Brazil. Several participants described it as huge plsitive change invthe relation betweenbtheir company and Receita Federal.
"AEO has given us considerable savings, millions of dollars, already"
They also said that it "was not as costly and difficult to become AEO as they had expected" and that AEO Brazil "has given us considerable savings, millions of dollars, already".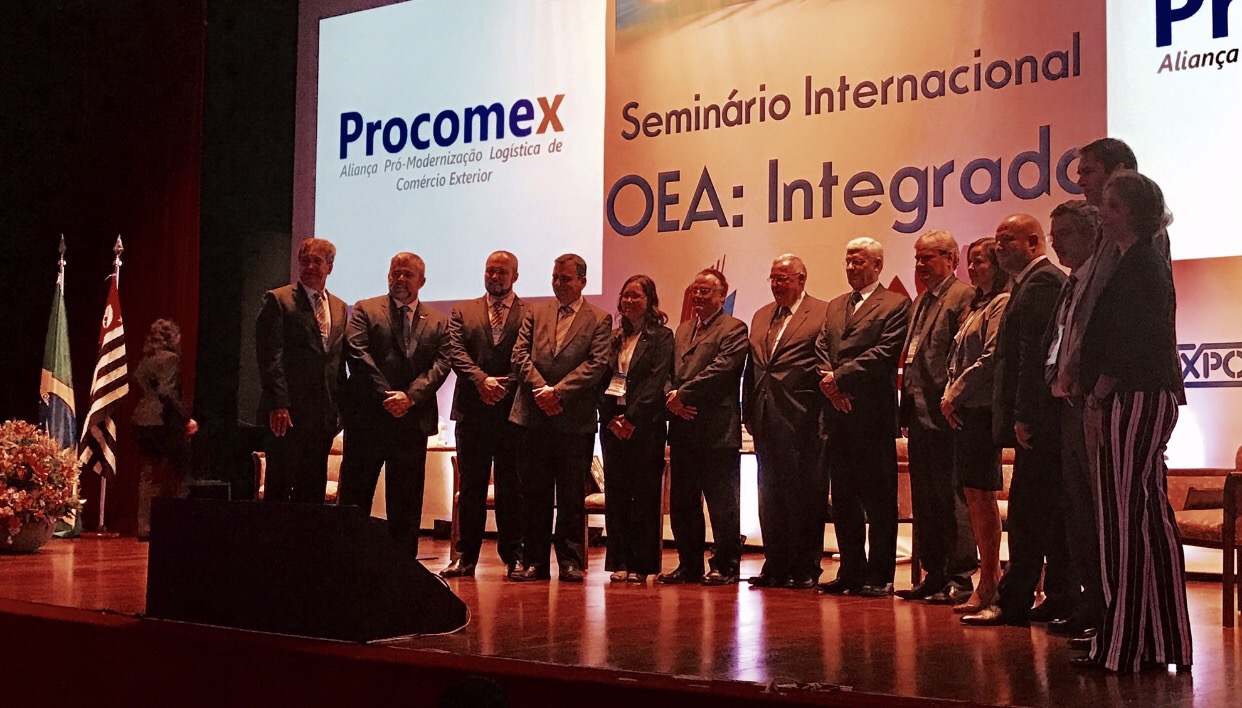 The speakers of the AEO Integrated conference
This was truly a landmark event – not only for Brazil but for the world – moving a new paradigm for AEO into reality.
Now the real work starts.