World Customs Organization (WCO) has published a new newsletter announcing amazing Capacity Building progress in one of the Customs Capacity Building programmes of the WCO.
The WCO Sub-Saharan Africa Customs Modernization Programme, funded by the Government of Sweden, comprises four projects, namely WCO-EAC CREATe, WCO-SACU Connect, WCO-WACAM and WCO-INAMA Project.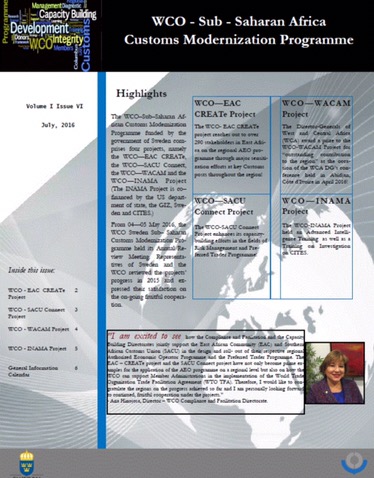 In their totality, these projects support regional Customs Unions in Africa in their mission to facilitate trade without compromising the security of their country and the safety of their citizens. The results are remarkable and very promising for the future. These are benchmark projects, displaying WCO Members ability to deliver excellent capacity building and modernization results.
The newsletter appears quarterly and informs on ongoing tasks as well as gives an overview of future activities. Don't miss it!
You can read the Newsletter here: WCO Sub-Saharan Capacity Building and Modernization Programme Newsletter