May 11th – Don't miss this webinar on 'The Future of Trade Compliance: How Technology is Revolutionizing the Industry". I will be speaking about Global Trade 2.0 & how a new level of Trade Compliance will become the licence to play for global trade.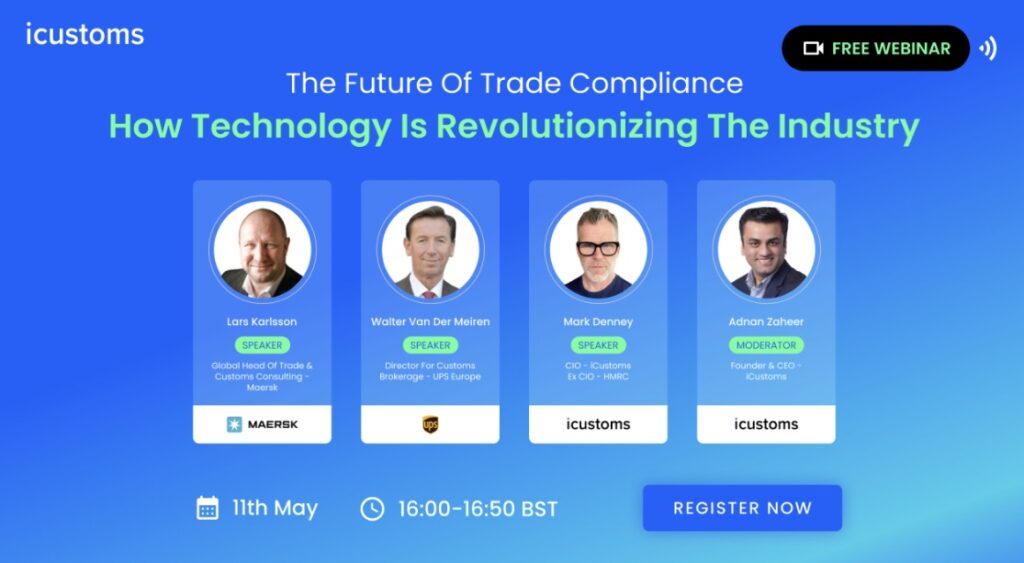 In this webinar, you will learn:
🔵 ICS2: What is it, and how it will impact businesses trading with the EU?
🔵 Global Trade 2.0: What is it? Is it an opportunity or a challenge?
🔵 Windsor Framework: What is it, and how does it impact trade in the UK?
🔵 How is technology transforming trade compliance and its impact on the industry?
🔵 Latest trends and innovations, including automation, AI, and ML, and how they can help organisations streamline their compliance processes. Join us, if you are a trade compliance professional or a supply chain manager looking to learn about new regulatory changes and optimise your trade compliance processes, don't miss this webinar.
𝐒𝐩𝐞𝐚𝐤𝐞𝐫𝐬: 𝐋𝐚𝐫𝐬 𝐊𝐚𝐫𝐥𝐬𝐬𝐨𝐧 Global Head of Trade & Customs Consulting – Maersk
𝐖𝐚𝐥𝐭𝐞𝐫 𝐕𝐚𝐧 𝐝𝐞𝐫 𝐌𝐞𝐢𝐫𝐞𝐧 Director for Customs Brokerage – UPS Europe
𝐌𝐚𝐫𝐤 𝐃𝐞𝐧𝐧𝐞𝐲 Chief Information Officer – iCustom, ex CDIO – HMRC
𝐌𝐨𝐝𝐞𝐫𝐚𝐭𝐨𝐫: 𝐀𝐝𝐧𝐚𝐧 𝐙𝐚𝐡𝐞𝐞𝐫 Founder & CEO – iCustoms