The Customs service provider industry is not about "form filling", it is a dynamic, international profession with a bright future – especially post-Brexit and the post-COVID-19 crisis when trade recovery will become an important part of any strategy for financial recovery of our economies.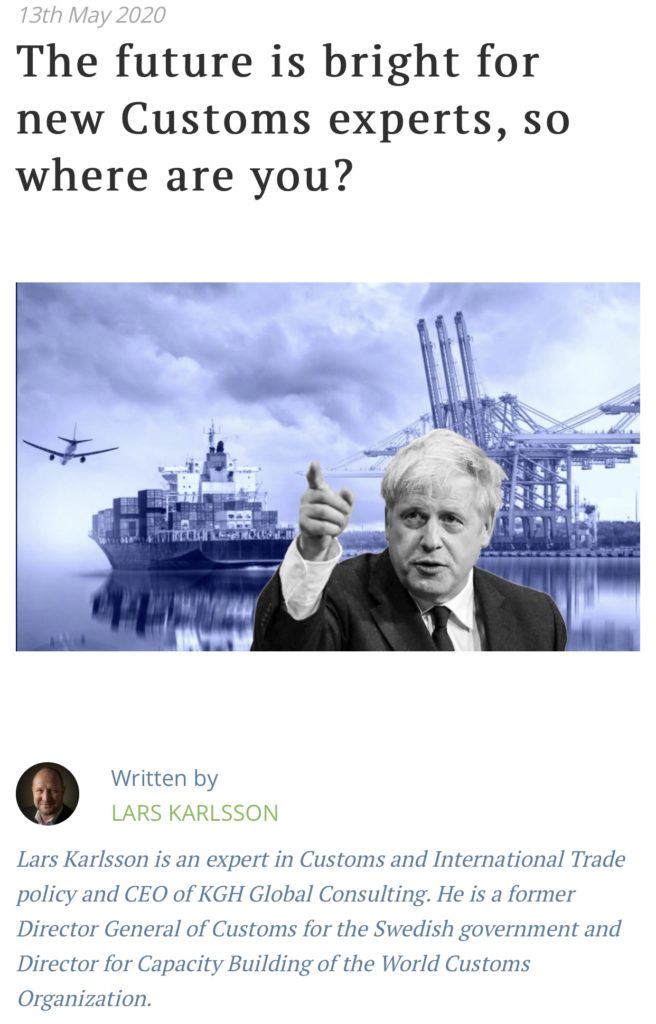 Negotiations between United Kingdom and the European Union have re-started despite the COVID-19 crisis. Several rounds of negotiations have already taken place in the different groups discussing the future UK-EU relationship.
Due to the COVID-19 crisis some in the UK and EU have called for an extension of the transition period beyond the 31 December 2020 deadline. The UK government has been clear that this will not happen. It is now time for the private sector to start preparing for the post-Brexit trading environment.
One issue that has emerged in the United Kingdom is the capacity of the Customs service provider sector to support UK companies from the end of the transition period.
More than 150,000 UK trading businesses have never previously completed import or export formalities. There is an urgent need for the Customs service provider industry to increase its capacity to support UK businesses after 31st December, 2020.
Michael Gove, Chancellor of the Duchy of Lancaster and Minister for the Cabinet Office, has estimated that there will be a need for 50,000 new Customs experts in the private sector. Our estimate is that as many 70,000 new customs experts will be needed post-Brexit.
To address the current shortfall, the UK government has provided funding for training and HMRC has launched several initiatives targeting future private sector Customs professionals. Amongst the initiatives is the online UK Customs Academy which offers professional and academic qualifications free of charge. There are other providers too on the market.
While many hundreds of students have already signed up for the HMG initiated UK Customs Academy, more needs to be done to ensure that the goal of 50,000 of Customs service professionals is reached by the end of 2020.
A marketing campaign is needed to make people – and particularly young people – aware of the job opportunities available now in this dynamic and international sector and how they can gain qualifications. The Customs profession today is exciting and complex with opportunities including supply chain and data analytics, regulation, logistics, and Customs and trade compliance as well as many others. It is much more than 'form-filling' as it has sometimes been described.
International value chains and global supply chains are highly integrated. Every decision relating to the movement of goods across borders rests heavily on international standards as well as regional and national legislation. When a Customs expert or service provider makes a decision there is a complex series of factors that need to be considered. The Customs service provider industry is a knowledge industry where data capture, analysis and fast decision making based on risk management is far more important than filling in forms.
While many countries have been in lockdown due to the COVID-19 crisis our borders have remained open for goods. This has been vital for our protection and in the fight against the pandemic. Customs experts have been at our borders 24/7 often at risk to themselves to make sure that vital medical supplies and equipment move across borders and get to our healthcare institutions.
So what is needed to get the expected results from these prior investments and to start building the new well educated workforce that is needed at the end of the year?
The existing education grant funding to provide education free of charge needs to be made available to individuals and not just companies. This will create opportunities for thousands more people to gain qualifications. The period that the grant funding is available also needs to be extended beyond January 2021 to ensure that there is an expanded pool of talent available to companies and Customs service providers. It may also be necessary to consider renewing the grant fund if needed.
To be able to meet the need of more than 50,000 new Customs service provider professionals it is critical to reach out and make people aware of the job opportunities that exist right now. More needs to be done to explain the high-value and complex nature of the work that Customs professionals do. There also needs to be better understanding of the free-of-charge professional education that is available through the UK Customs Academy and other training institutions.
With the potential for hundreds of thousands of people to be looking for work in the post-COVID-19 world and fundamental changes to our economies, gaining professional qualifications as a Customs expert offers immediate job opportunities.
The Customs profession is a profession for the future. The future is bright for Customs experts, the professional pathway is available – so where are you?