Soonnit will be the 'Blockchain Rock'. Gibraltar moves to become world's first cryptocurrency hub.
the southern Mediterranean coast, nestled in the shadow of the Rock's sheer limestone cliffs and its tangle of wild olive trees, the Gibraltar Stock Exchange (GSX) is quietly preparing for a corporate takeover that could have global consequences for the former naval garrison.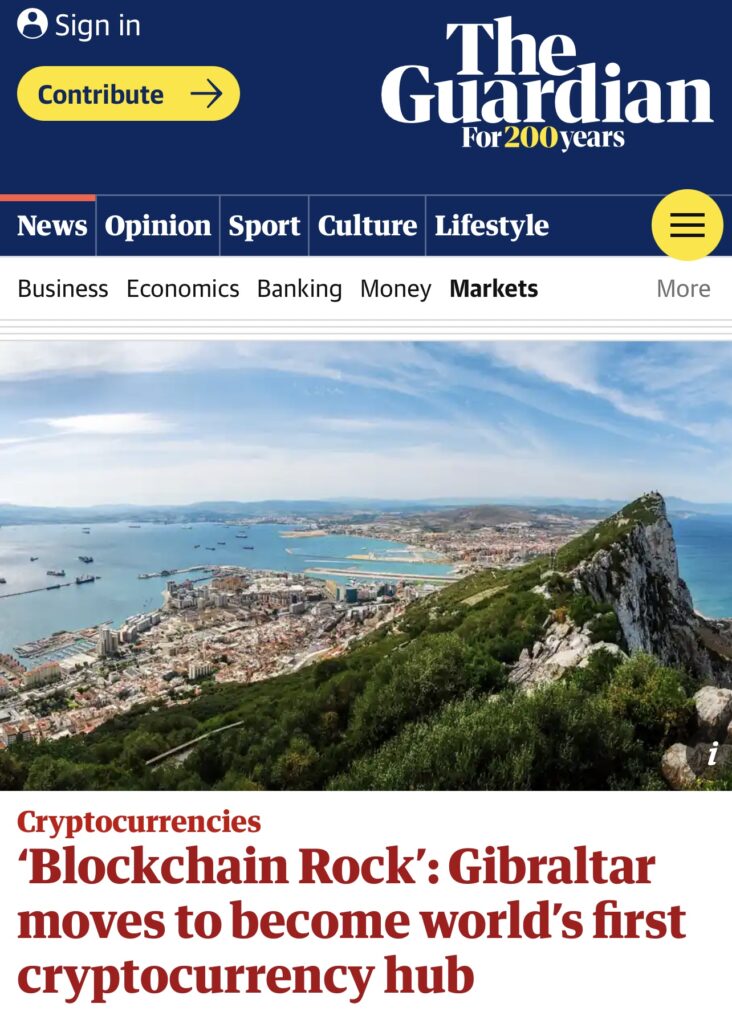 Less than half a mile away, next to the blue waters of Gibraltar's mid-harbour marina, the peninsula's regulators are reviewing a proposal that would prompt blockchain firm Valereum to buy the exchange in the new year – meaning the British overseas territory could soon host the world's first integrated bourse, where conventional bonds can be traded alongside major cryptocurrencies such as bitcoin and dogecoin.
It is a bold move for a territory of just 33,000 people, where the financial sector – which accounts for roughly a third of Gibraltar's £2.4bn economy – is overseen by a regulator staffed by 82 employees. If all goes to plan, the enclave could become a global cryptocurrency hub; if the controls set by the small team of regulators fail, it risks reputational damage and ultimately diplomatic sanctions that could threaten its economy.
While countries including China and the UK have either banned or openly warned against investments in crypto assets, Gibraltar has bucked the trend, having committed to formally regulating cryptocurrencies in an attempt to future-proof the territory's status as a financial hub.
It comes as Gibraltar struggles to shake off a reputation as a global tax haven, with the government having sued a Spanish newspaper in an attempt to restore its global standing.
Albert Isola, Gibraltar's minister for digital, financial services and public utilities, says that while Gibraltar was a tax haven 20 years ago, the territory has now overhauled its tax and information sharing policies. The introduction of crypto regulation is having a similar effect: rooting out bad actors and providing assurance to investors, he says.
"If you wanted to do naughty things in crypto, you wouldn't be in Gibraltar, because the firms are licensed and regulated, and they aren't anywhere else in the world," Isola says.
Gibraltar's regulator has so far approved 14 cryptocurrency and blockchain firms for its licensing scheme, attracting the attention of ex-Sirius Minerals chairman Richard Poulden, who chose Gibraltar for Valereum's crypto-exchange project. Valereum, he says, is trying to harness a cryptocurrency sector that is worth roughly $3.5tn (£2.6tn) – roughly the combined value of all companies listed on the London Stock Exchange.
Poulden is the chairman of Valereum, which is based in Gibraltar and focuses on providing technology for linking mainstream conventional currencies such as the pound and the dollar with crypto assets.
It will be a major task to overhaul an exchange that is currently staffed by only three employees, and will require a change in Gibraltar's regulations to govern how crypto is going to be traded on the GSX. But Poulden says his firm is leaning on technology, rather than people, to weed out any bad actors.
To read the entire article, clickbhere: Blockchain Rock': Gibraltar moves to become world's first cryptocurrency hub
Source: TheGuardian