Theresa May has promised MPs a vote on delaying the UK's departure from the EU or ruling out a no-deal Brexit, if they reject her deal next month.
Mrs May made a statement to MPs about Brexit on Tuesday, amid the threat of a revolt by Remain-supporting ministers.
The prime minister promised MPs a meaningful vote on her Brexit deal by 12 March.
Labour leader Jeremy Corbyn accused the prime minister of another "grotesquely reckless" Brexit delay.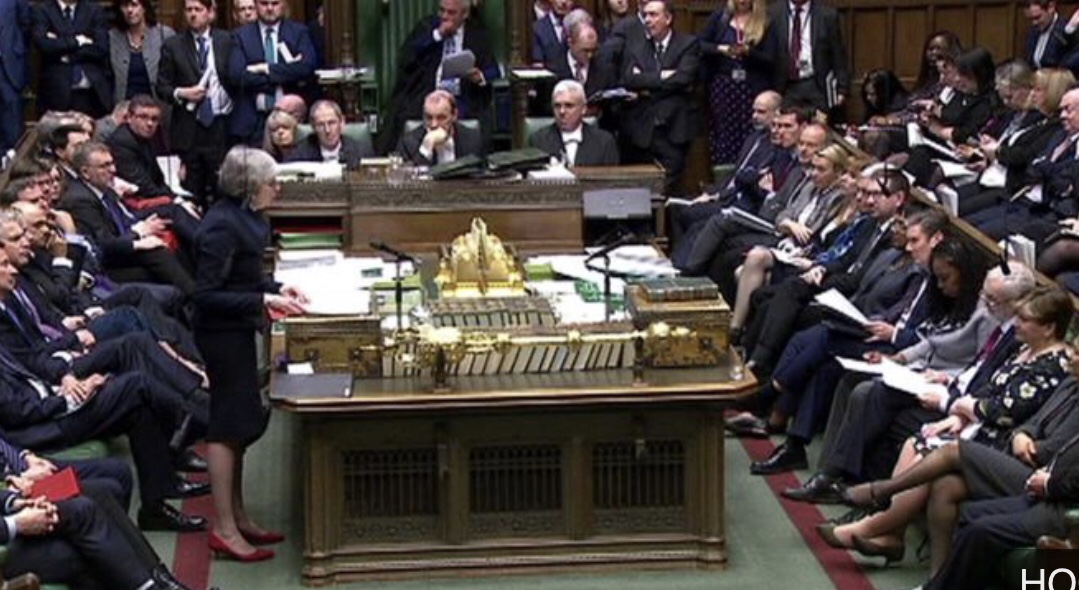 The prime minister said she will put her withdrawal agreement – including any changes she has agreed with the EU – to a meaningful vote by 12 March.
If that fails, MPs will be offered two separate votes:
▪ One, on the following day, on whether MPs support a no-deal Brexit – so the UK would "only leave without a deal on 29 March if there is explicit consent in the House for that outcome"
▪ If that fails, then MPs will get a vote by 14 March on requesting an extension to the two-year Article 50 negotiation process to delay EU withdrawal beyond 29 March
"Let me be clear, I do not want to see Article 50 extended," she told MPs.
"Our absolute focus should be on working to get a deal and leaving on 29 March."
Any extension should not go beyond the end of June and "would almost certainly have to be a one-off", she added.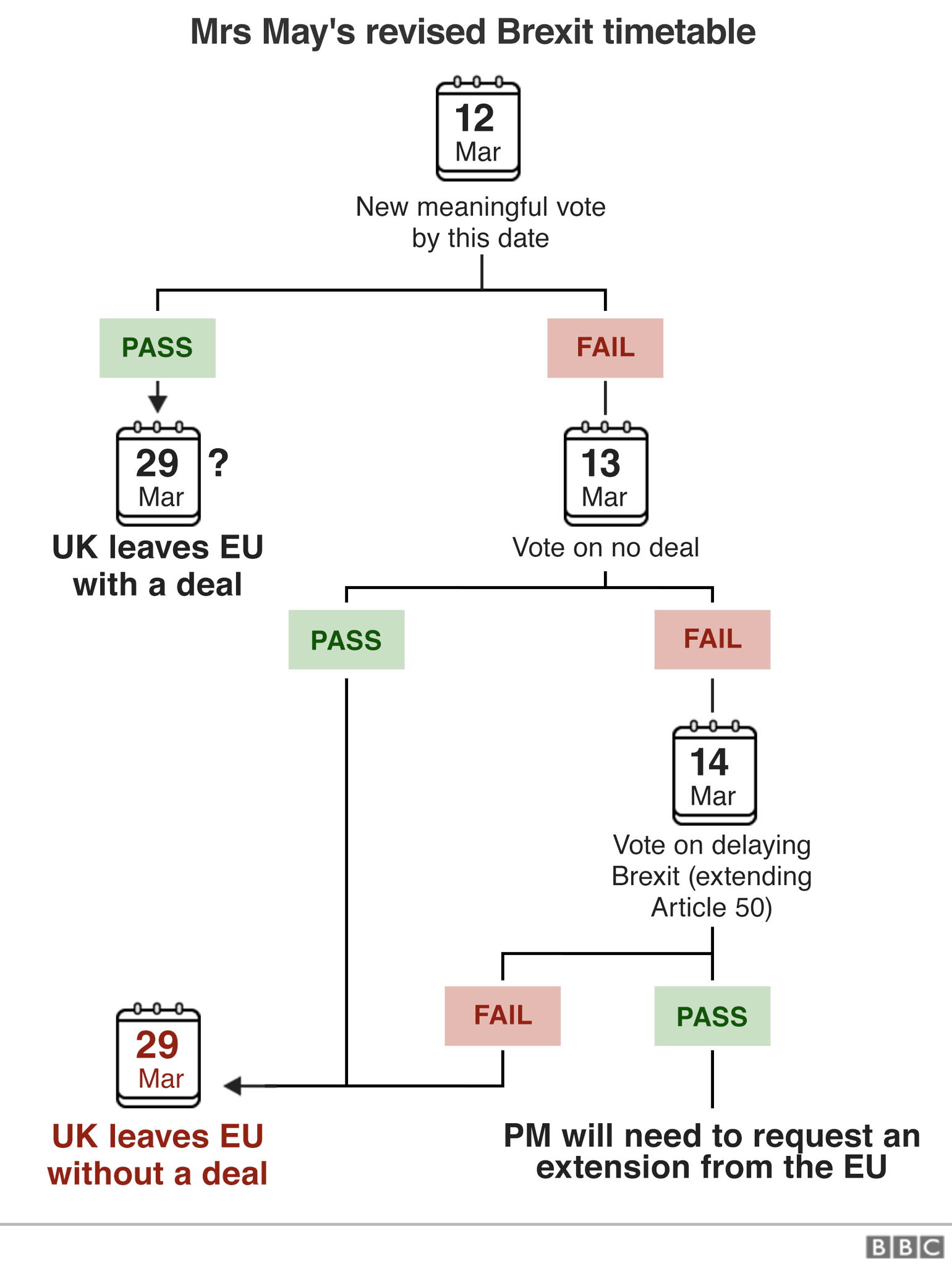 Mrs May said an extension "cannot take no deal off the table", adding: "The only way to do that is to revoke Article 50, which I shall not do, or agree a deal."
Extending Article 50 would require the unanimous backing of the other 27 EU member states and, she said, she had not had conversations about it with them.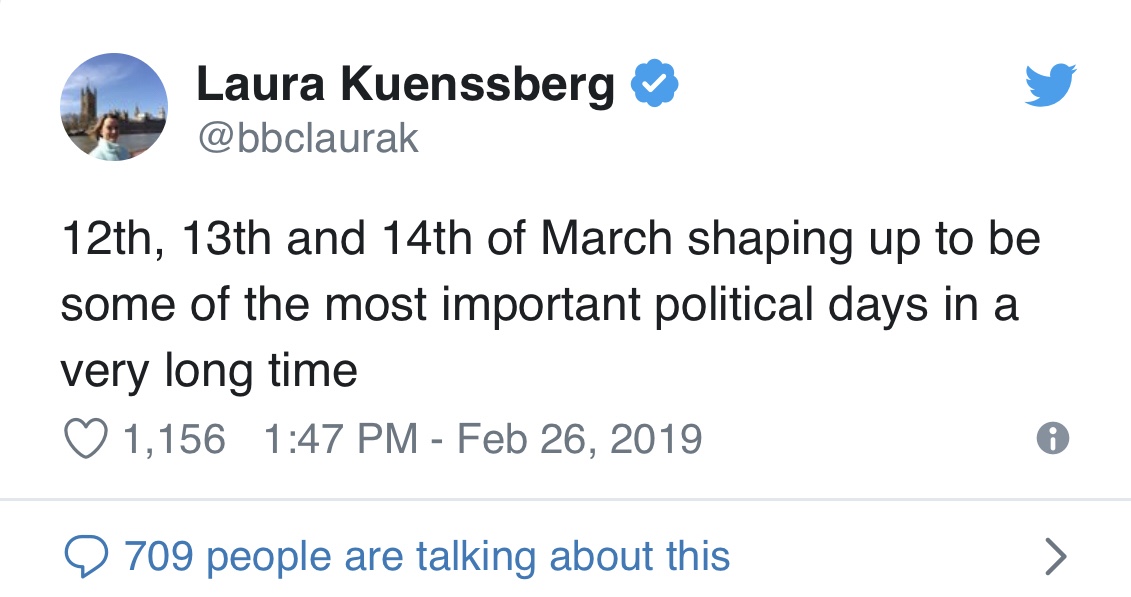 Mrs May repeatedly declined to say whether she would vote against a no-deal Brexit, and whether Tory MPs would be whipped to vote for or against it.
Theresa May's big concession – and it was a significant tactical retreat – was about buying herself more time.
So now, under the threat of maybe 15 to 20 ministers rebelling, the prime minister's promised MPs an opportunity next month to rule out a no-deal Brexit, and force a "limited" delay in leaving the EU.
Without that promise, there's every chance those unhappy ministers would have joined other MPs in voting to rule out no-deal and delay Brexit anyway.
She did not offer ministers freedom to vote as they choose. So now the (potential) rebels must decide whether to hold fire for a fortnight, while she tries to get terms in Brussels she can sell to the Commons – hoping Brexiteers ultimately back her deal as the best Brexit available.
Call it "running down the clock", or "kicking the can down the road", if you like.
But kicking and running has been Mrs May's best hope for months.
Source: BBC News