Michael Gove has as reported in several media accused the European Union of sparking a breakdown of trust in the Brexit agreement. The Cabinet Office Minister said the bloc's plan to blockade vaccines headed for Britain was in breach of the Northern Ireland border pact. In a letter to European Commission vice-president Maros Sefcovic, he said Brussels had sparked a "an overwhelming reaction" with its "grave error". "I had expected a strong response, but the reaction was even more negative than I had anticipated," Mr Gove wrote.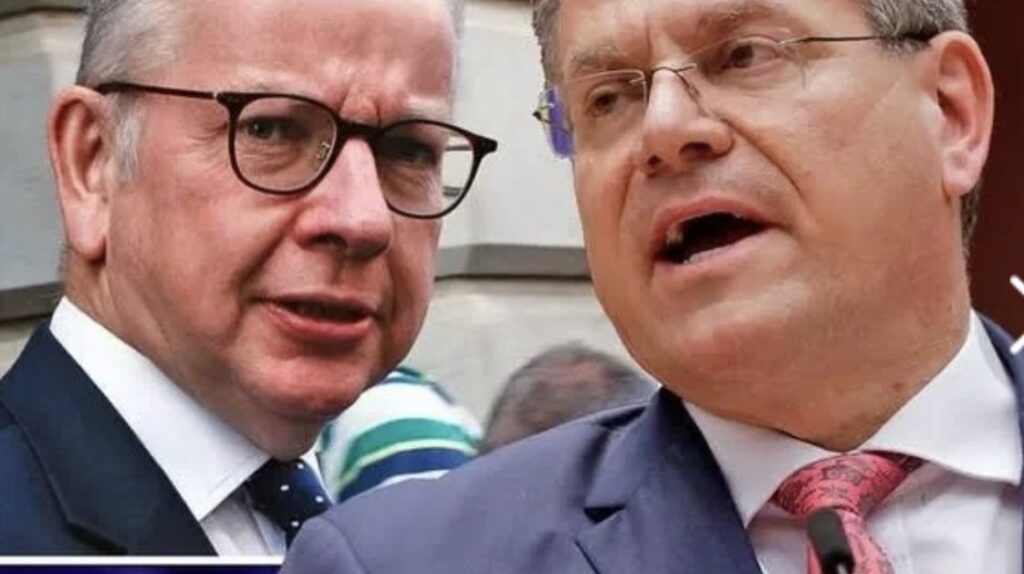 He was referring to the EU's triggering of Article 16 of the Northern Ireland Protocol essentially threatening the introduction of customs controls with Ireland.
The measure was referenced in the European Commission's plans to prevent the export of coronavirus vaccines outside the bloc.
Commission president Ursula von der Leyen last week reversed the regulation after it sparked anger in Dublin, Belfast and London.
Mr Gove wrote: "We draw two particular conclusions from the publication of Commission Implementing Regulation (EU) 2021/111 on January 29.
First, that the Commission was ready to impose customs processes on goods crossing the border between Ireland and Northern Ireland within hours.
"Second, that the Commission activated, however briefly, Article 16 of the Protocol."
The Cabinet Office minister added: "Despite these clear provisions of the Protocol, the UK found out about this measure only through publication of the Regulation and subsequent media coverage (as, we understand, did the Irish Government).
"The fact that the Regulation was subsequently withdrawn and then reformulated does not change these realities, which have been well noted in Northern Ireland and beyond, and which have profoundly undermined the operation of the Protocol and cross-community confidence in it."
Mr Gove, the UK's represent on the Brexit Joint Committee, is set to hold talks with his EU counterpart Mr Sefcovic later today.
Ahead of the showdown, the Cabinet Office minister set out a series of plans for rebuilding trust in the Northern Ireland border plan.
He said the EU should not move to trigger the Article 16 clause or prohibit the movement of vaccines into Northern Ireland.
Mr Gove then introduced plans to extend a number of derogations to "stabilise the situation and reassure all parties in Northern Ireland".
Here is the letter from Michael Gove to the EU.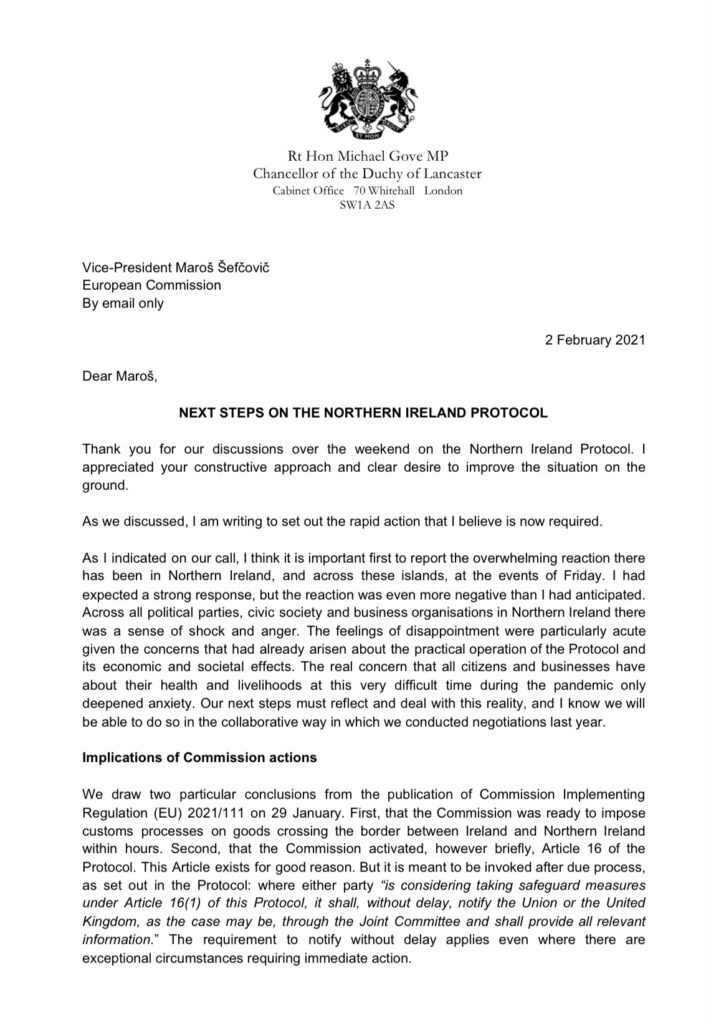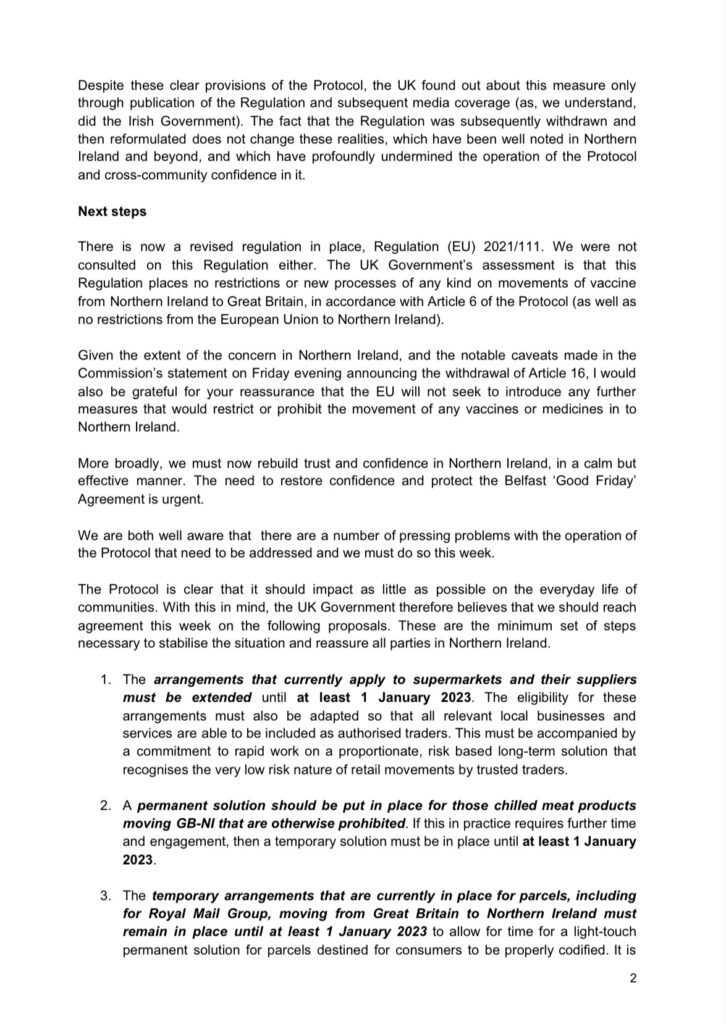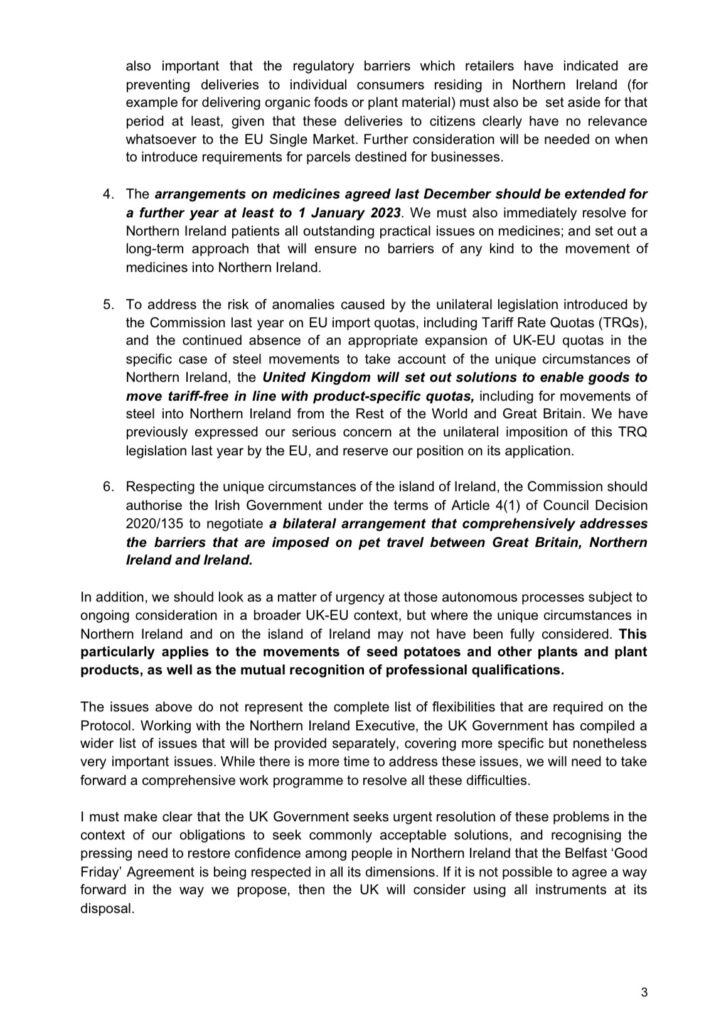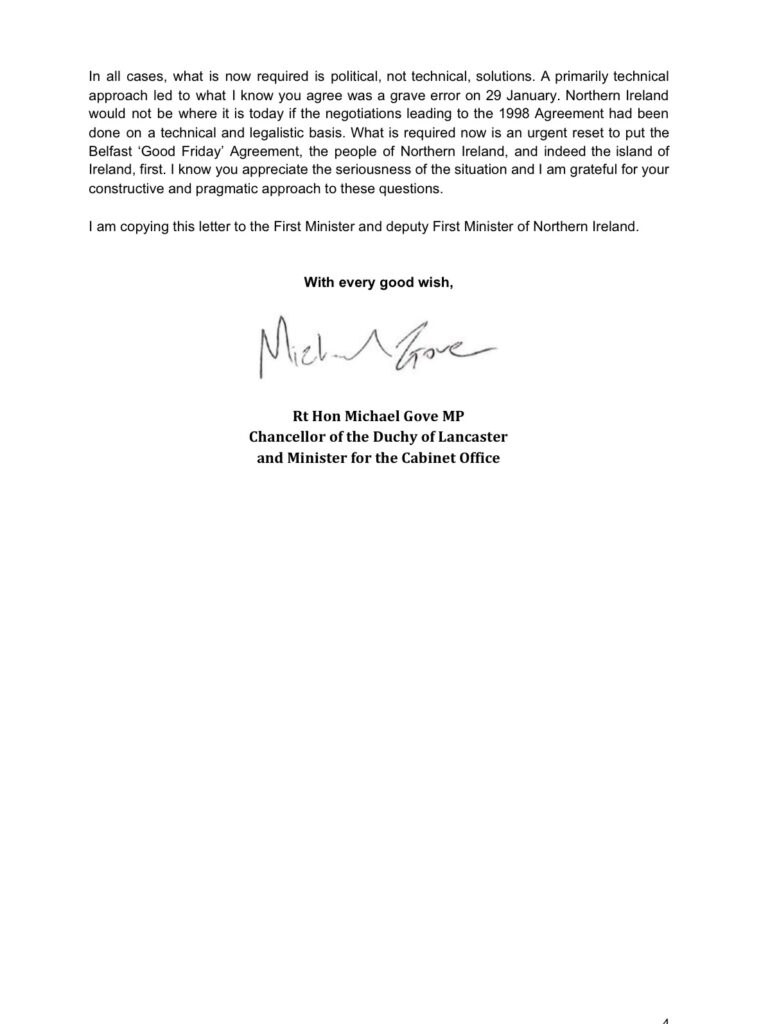 Source: Daily Express