Amazing interview with Swedish football superstsr Zlatan Ibrahimovic.
The Milan and Sweden player talks about barging César Azpilicueta, the Premier League and the secret of his longevity.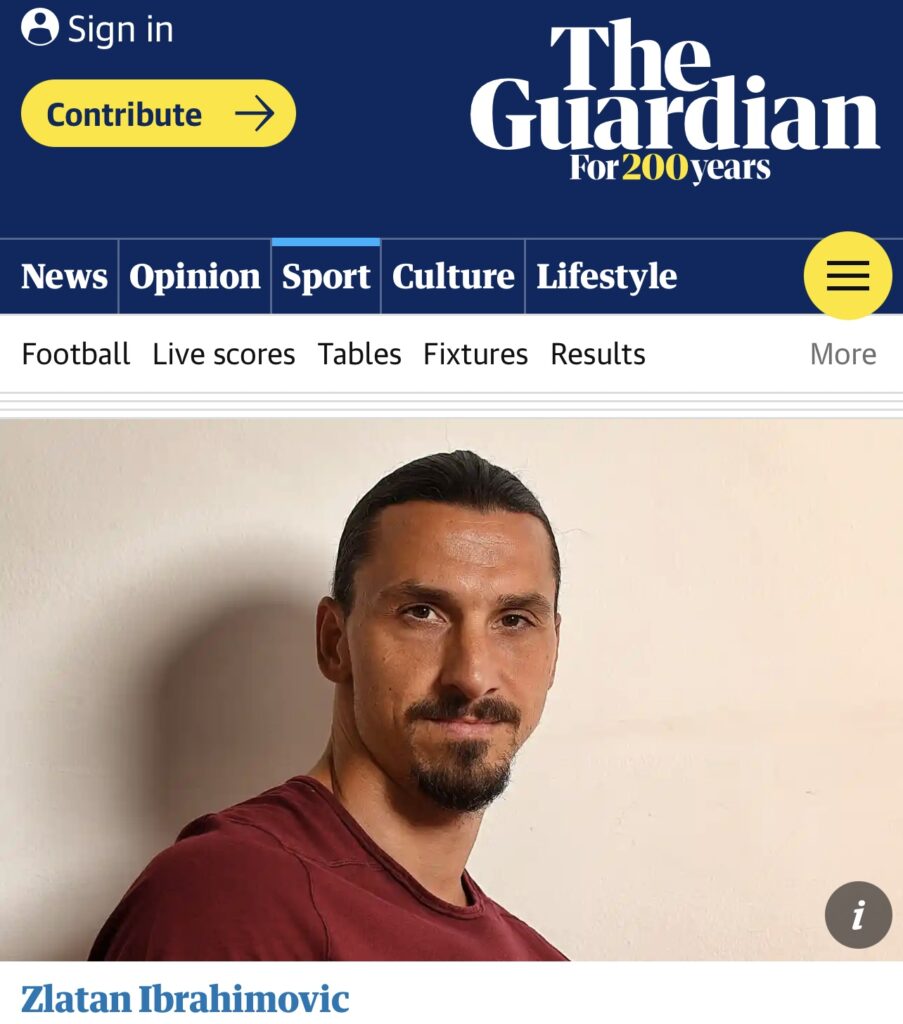 "It is not easy. Every day I wake up, I have pain everywhere," Zlatan Ibrahimovic says as he resists the inevitable end on a beautiful afternoon at Milanello. The mighty Swede grimaces before fixing me with his familiar stare of cocky intensity at Milan's famous old training ground. This is how much it takes to remain an elite footballer at the age of 40.
Ibrahimovic continues to inspire a young Milansquad and to play football at the highest level while sparking controversy and embracing the wonder of being Zlatan with amusing gusto. He knows we are all going to die, or retire, but here is the defiant Ibrahimovic mantra.
"This morning I had pain everywhere but as long as I have objectives, as long as I have adrenaline, I keep going. I know I'm coming to something good. I'm coming to somewhere I need to work to keep myself at the top".
"I will keep doing it as long as I can. I don't want to have that regret if I stop and then, in a couple of years, I'm sitting with you and saying: 'I could have continued because I was feeling good.' It's better to be totally finished and say: 'I cannot do it any more.' But I can still do it and I am doing it."
"I'm not that dog that barks and does nothing. I'm the opposite"
On Saturday, away against Fiorentina, Ibrahimovic scored two and set up a third goal.
Life is up and down. If everything was perfect, we have nothing to talk about. We still do mistakes. Nobody is perfect. On digital platforms you put out a picture with 20 filters and you look perfect. But when I see you in reality you're not perfect. You look normal like everybody else. People pretend they are perfect. I say: 'I am perfect when I'm myself.' It doesn't mean I will not do mistakes. But I learn from them.
"The only thing that keeps me going is the adrenaline because every morning I have pain everywhere. But getting two more followers will not heal you. Getting more money will not heal you. Getting attention will not heal you. What will heal you is adrenaline"
"The other day in the national team, I gave a tackle to [Spain's Azpilicueta]. I did it on purpose. I'm not ashamed to say it because he did something stupid to my player. Acting big to my player. It was a stupid thing but I would still do it to make him understand: 'You don't fucking do that. You don't have balls to do it against me. But I will show you what happens if you do it to me.' That's why I did it."
Read the entire article in The Guardian: Zlatan Ibrahimovic: 'I did a stupid thing. But I will do it again, 100%'
Source: TheGuardian